Jane Philo
Champion of Domestic Violence Victims and Survivors
October 31, 1938 – March 9, 2023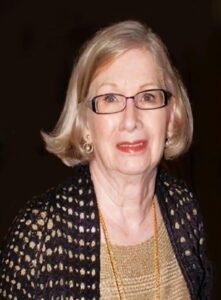 The domestic violence movement in Mississippi has lost a pioneer, Jane Philo. Known throughout the state as a passionate advocate, supporter, mentor, and leader in the domestic violence field, Jane was instrumental in passing domestic violence legislation as well as laying the foundation for services for survivors. Jane served as the Executive Director for the Gulf Coast Center for Nonviolence (GCCFN) for over 20 years. Her impact on victim services is quite vast as she grew GCCFN to one of the largest programs supporting victims of interpersonal violence in the state.
Jane served in many ways to influence comprehensive programming, the development of laws, polices, and practices. She personally touched the lives of many individuals dealing with the devastating circumstances caused by interpersonal violence. One of her statewide roles was a past member on the Board of Directors for the Mississippi Coalition Against Domestic Violence, where she served as president of the board. Jane played an integral part in the passing of the 1983 Domestic Violence legislation.
When we reference services or specific laws to support a survivor, we will remember the foundational work laid by Jane Philo. She entered eternal rest on March 9, 2023, the day before the Gulf Coast Center for Nonviolence held a ceremony and reception renaming their domestic violence shelter in her honor to Jane's House.
Jane is survived by her loving husband, Dave, and their daughter, Heather Philo Wagner. She will be greatly missed by all who knew her. The MCADV Board of Directors, Staff, Domestic Violence Programs, and many survivors whom she has affected throughout the years honor her memory and legacy.